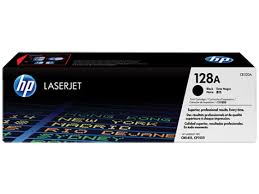 A toner cartridge is a cartridge that holds the toner used for printing in a laser printer. The toner is a fine, dry powdery substance made up of carbon or other coloring agents. Monochrome laser printers used a single color toner cartridge, preferably black whereas color laser printers use four separate color toner cartridge, black, cyan, magenta and yellow toner cartridges, to print a colored output. Toner cartridges are pretty different from ink cartridges in terms of the substance they contain and in terms of the how they work. An ink cartridge, as the name suggests, has ink as the printing medium and can be either dye biased or pigment biased. An ink cartridge is used in an inkjet printer.
Working of a toner cartridge in a laser printer:
In a laser printer, there is a green colored metallic drum present which is sometimes built inside the toner cartridge rather than a standalone unit. The laser light is reflected onto the drum unit to imprint ht e shape of the intended print. The paper is passed across the drum so that the toner gets transferred onto the imprinted paper. The fuser unit comprises of a heated roller that melts the toner particle on the imprinted paper which seals the toner to the paper so that it is no longer in a powdery form. It also makes sure that the toner shouldn't smudge or fall off the paper as it comes out of the printer.
The advantages of using toner cartridges (or laser printers in general):
For people who don't print very often, laser is a good solution since ink dries up and the toner does not. Laser printer is also a relatively good option for schools and workplaces which might require high volume printing. Laser printer isn't suggested for consumers who need to print high quality pictures, since the toner fails to provide tonal distinctions hence the pictures might look dull for professional use for people like photographers. Multi-function laser printers also provide print, scan, copy and fax capabilities.
It is known that cartridges are pretty expensive. Sometimes the cartridges are more expensive than the entire laser printer so once the cartridge finishes people dispose the old printer and buy a new one. But one fails to realize that the printers come with one-third of the cartridge so practically it is cheaper to refill the toner cartridge. Especially for workplaces where the volume of printing is larger, refilling is a convenient option. One can also look up for cheap hp toner cartridges to reduce the cost; such deals are available in Maharashtra online as well as offline. To cut the cost buying in bulk is an intellectual option.
If you require laser printer refills for homes, cheaper cartridges are also available in the market. If you search online you could easily find cheap hp toner cartridges in India. One must buy a cartridge from a renowned company which offers a good page yield per cartridge at a reasonable price. The size of the cartridge is also something one should keep in my while buying a cartridge for your printer.